Concussion: Acute
Key Points:
There are steps to take if you have had a recent concussion.

Taking a break from your activity is important.

There are others who can help.
What is an acute concussion?
If you suffered a concussion within the last month, medical professionals would call it an "acute concussion."
What should you do?
Immediately after your injury, it is important to let your parent/caregiver/coach/ teacher know. Do not return to the activity.

See a doctor to confirm you have had a concussion and learn about what to do.

Rest and relax for the first 24-48 hours after the concussion. Do not return back to game, practice, or high-risk activities until you see a doctor and are told it is safe to do so.

Connect with your friends and family - let them know you may need to take it easy right now.

After this initial period of rest, research has shown that gradual return to activities "as tolerated" is safe. This may include light activities such as setting the table for dinner or going for a short walk.

Returning to school may be challenging at first and it is common to take a day or two off – please refer to Preparing to Return to School.

For more information, please see topics on:
Why you can't return to the activity/game/sport you were doing?
It is rare, but you could end up with second impact syndrome. This is when you experience a second concussion before signs and symptoms of a first concussion have resolved. As a result, you could sustain a rapid and usually fatal brain swelling.
It's important to never return to sporting activities while you are still experiencing signs and symptoms of concussion.
Who can help me?
Click on each hotspot to learn more.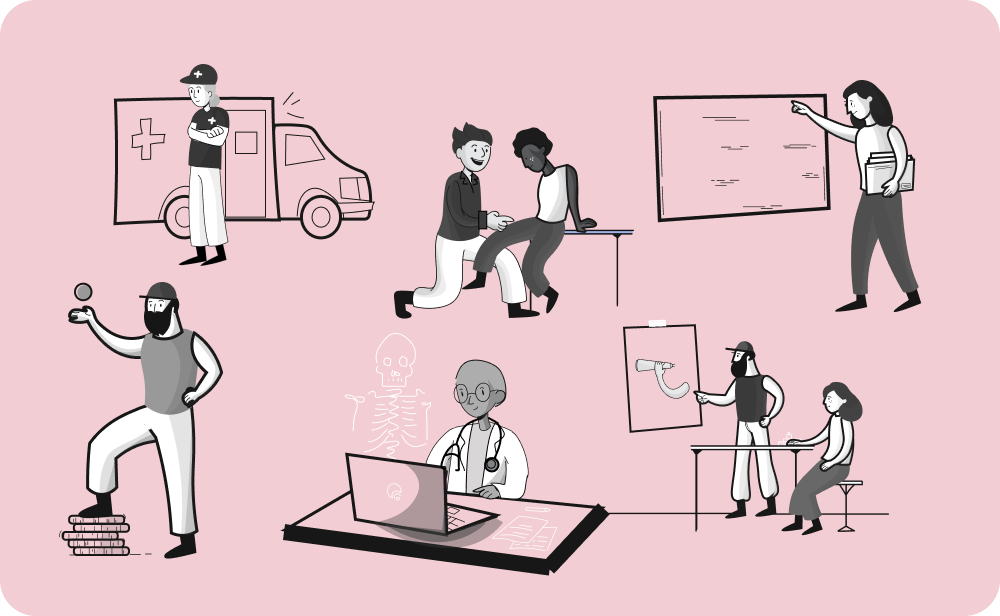 Emergency
If you are not sure what to do or worried about your symptoms, then have your parent / caregiver take you to the Emergency department at your local hospital.
Family Doctor or Pediatrician
You can see your family physician within 24-48 hours to confirm if you've had a concussion and learn about what to do next.
Occupational Therapist
You may be referred to see an Occupational Therapist who can assist with symptom management strategies such as managing being tired more often, not sleeping well, or increased stress.
Physiotherapist
After a week it can be helpful to see a Physiotherapist if your neck hurts, you have headaches, balance troubles, or if you have difficulty returning to activities you love to do.
Coaches / Trainers
Let your coach know if you've had a concussion. It is important that you return to practice and playing by following a step by step plan.
Teachers
Tell your teachers that you've had a concussion.
How long until you will feel better?
Most adolescents feel better within 1-2 weeks after a concussion, but not everyone does. Up to 30% of teens still have some symptoms longer than one month.
If you are still experiencing symptoms that interfere with school, activities, or you don't feel "right" you may benefit from seeking a health care team specializing in concussions.

⭐
Bookmark this page for later